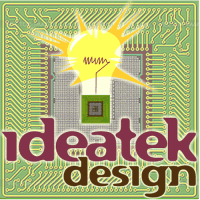 Bridging the gap between ideas and technology
A Micro Agency with Real Results

Your website should reflect your brand, and convey the right messaging to the right audiance. To do this, I get to know you and your business personally. Working along side you to strategize, design and support your web journey.

Whether you are the brand, as an artist or there is a board of directors, Ideatek Design is here to help create cohesive messaging and connect all the dots.
Sales Growth
%
First Year
Sales Growth
%
Over 4 Years
Not Just a WebMaster
"Suzanne Fava and Ideatek Design have been a much-needed lifeline for this busy entrepreneur.  I wear many hats running these businesses but "web tech" is not one of them. ..."
— Shane Moran, Co-Owner Goji Fitness llc
Hi I'm Siouxsie!
Not just a web designer.
I love the outdoors and camping, great music and dance buddies. A joy of cooking, gardening my community plot and foraging as an amateur mycologist. Bike rides for fun, on and off the pavement in the summer. In the winter, there is no other place than atop a snowy mountain with a sticker-covered snowboard. Nerdy Star Wars fan and lover all things time travel, I constantly feed my immagintion with it all. 
But it's not just me, a crew of creatives and coders are ready to help your project succeed. We are all weird and unique, just like you.